Ancient Shamanic Practices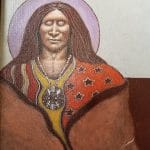 With Nutrition, Biology, & Neuroscience!
Switch off the cellular death-clock.
Up-regulate the energy matrix that informs your body.
Create the conditions for health, so that disease goes away, or never happens. – Alberto Villoldo, Ph.D.
Clear the imprints of disease from the Luminous Energy Field (LEF)
Extract intrusive energies and emotions,
Release Traumatic Distresses,
Turn wounds into sources of wisdom & compassion.
Reset fight/flight to feel safe.
Die Consciously.
The Way of the Shaman
Shamans are the mediators between the physical world and the spiritual world.
Shamans seek healing because healing creates comprehensive conditions for wellness that are found in the realm of the energetic. Seeking a cure, on the other hand, is found in the realm of matter and is most often a fragmented and stop-gap approach to maladies of the body and of our world … – Alberto Villoldo
Click here to help me continue helping others who are without funds.
---

Shamanic Energy Medicine Practitioner
The Four Winds Light Body School
Alberto Violloldo, PhD.
www.thefourwinds.com
The Four Winds Society offers the world's most thorough training in Shamanic Energy Medicine combined with cutting-edge practices in nutrition, biology and neuroscience. Over the past 25 years, we have trained and mentored more than 10,000 students from all walks of life – scientists, construction workers, nurses, doctors, psychologists, massage therapists, and others – to dream a new world into being.
"The Four Winds is the Harvard of neo-shamanism"
– Harper's Bazaar