Sound Healing
Sound healing has many forms including singing bowls, tuning forks, vowel sounding, and music played at prescribed hertz that supports healing etc…. I have personally found the Native American Flute (NAF) a particularly easy way to access music and sound healing. Native American Flutes are easy to learn to play, inexpensive, and resound with the players personal resonance like no other instrument I have experienced to-date. 
Kalani Das, MT-BC says Flutes Changes Lives:
"I've been using the native flute in my work as a community music facilitator, professional musician, and music therapist for over 10 years and I have seen so many positive effects in all areas of my practice. From personal music making to hospice music therapy, the flute has helped carry me and others through ups and downs, through beginning and ending, and provided a voice where words were not enough. I hope you choose to join us for Flute Harvest so we may all help others through active music making and receive the many physical, social, emotional, and spiritual benefits it has to offer." – Kalani Das, MT-BC
Here is a site that will answer most any questions you may have about Native American Flutes and how to get started.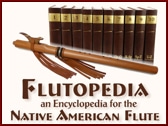 www.flutopedia.com
Completed:
6-day Native Flute Musicianship Certificate, Oct 16-21, 2016  Flute Harvest Native Flute School, Encino, CA, www.nativefluteschool.com

www.fluteharvest.com
The Program features a variety of classes taught through lecture/demonstration, multi-media presentations, individual practice time, partner and small group experiences, peer-to-peer coaching, and community performance/sharing.
Session Descriptions: Here are detailed descriptions of some of the facilitated sessions throughout the week:
The Healing Flute (Kalani) Did you know you can use flute play as an effective therapeutic tool for your own self-care? Playing the flute is an enjoyable way to de-stress, reduce worry, oxygenate your blood, revitalize your body, and get better rest. You will learn specific and effective techniques you can put to practice right away.
Breath And Sound (Clint)This session takes players to (or back to) the very basics of playing wind instruments: How breath pressure affects the sound of the instrument and how the player controls the tuning of the instrument.
The Scale Song (Clint) This session also introduces players to a very simple technique for improvising melodies. The Scale Song technique, developed by Doc Green Silverhawk, bridges the gap between playing the basic scale and free improvisation. This is a great technique if you are a novice who is looking for a bit more structure than "just play any melody" or you would like to learn a technique for your own classes or lessons that you offer.
Poetry and the Native American Flute (Vera)The Native American flute and poetry are a natural and powerful combination. This session explores that combination, exploring the use of the flute in setting an emotional background on which words and stories can be presented. You will learn basic approaches to this combination that you can use in performance settings as well as memorial and devotional services.
Plays Well with Others (Kalani) The NA Flute has all sorts of interesting musical friends. Discover how to integrate flute play with other popular instruments without the need to read music or know music theory. You'll learn how to use instruments such as the tongue drum, HAPI drum, kalimba, shruti box and others that can compliment and enhance your flute experiences.
Song Forms (Clint) How do a group of musicians improvise music "in the moment"? From the outside, it might look like magic … but there are some very simple song forms that allow us to create great improvised pieces without written music or rehearsal. We look at song forms for flute duets and trios, as well as ensembles of mixed instruments including percussion and texture sounds.
Journeys with Melodies (Clint) Giving structure to our melodies helps us tell a story and take listeners on an emotional journey. We begin this session with basic one-breath phrases and learn to build them into complete song forms such as A-B-A, A-A-B-A, and Verse-Chorus structures.
Ornamentation and Vibrato (Clint) Ornaments on melodies are like spices on food. In this session you will learn the key ornaments for Native American style songs as well as Celtic, Jazz, and Classical styles. You will also learn the basic techniques of developing and controlling vibrato through historical recordings and physical exercises that connect you directly with this core flute technique.
After the workshop demonstrations, you participate in an extended breakout session where you get to practice each ornament and then incorporate it into a song.
Exotic Tunings (Clint) Playing melodies evoke different cultures – Western classical, Middle Eastern, Asian – is amazingly easy on Native flutes. With a slight change in the order that we pick up our fingers, a world of melodies opens up. In this gentle introduction to new scales, we add one note to the basic scale to access the "bugle scale" and learn a new song in that scale. We then look at a menu of 14 possible alternate scales on the Native American flute.
Flute Harvest combines players with varying levels of experience to provide learning and teaching opportunities to all participants. Beginners are able to learn and work at their own pace, while more advanced players have the freedom to meet new challenges.
Tell us about your personal and professional goals. We are happy to accommodate special requests for learning styles, the need for specific types of experiences, and pedagogical and performance goals.